Organised by the Hong Kong Trade Development Council, the 2022 Hong Kong Electronics Fair (Autumn Edition) was held from 10.13 to 10.16 at the Hong Kong Convention & Exhibition Centre.
As one of the world's largest electronics industry events, the Hong Kong Convention and Exhibition Centre is packed with people, gathering emerging electronic products and science and technology from around the world, gathering quality suppliers from all over the world and attracting buyers from many countries or regions to gather here.
During the four-day exhibition, Carku presented a number of new products such as car jump starter and portable power station, which won the favor of many visitors.
Carku staff introduce products to foreign customers
Visiting and consulting in front of the booth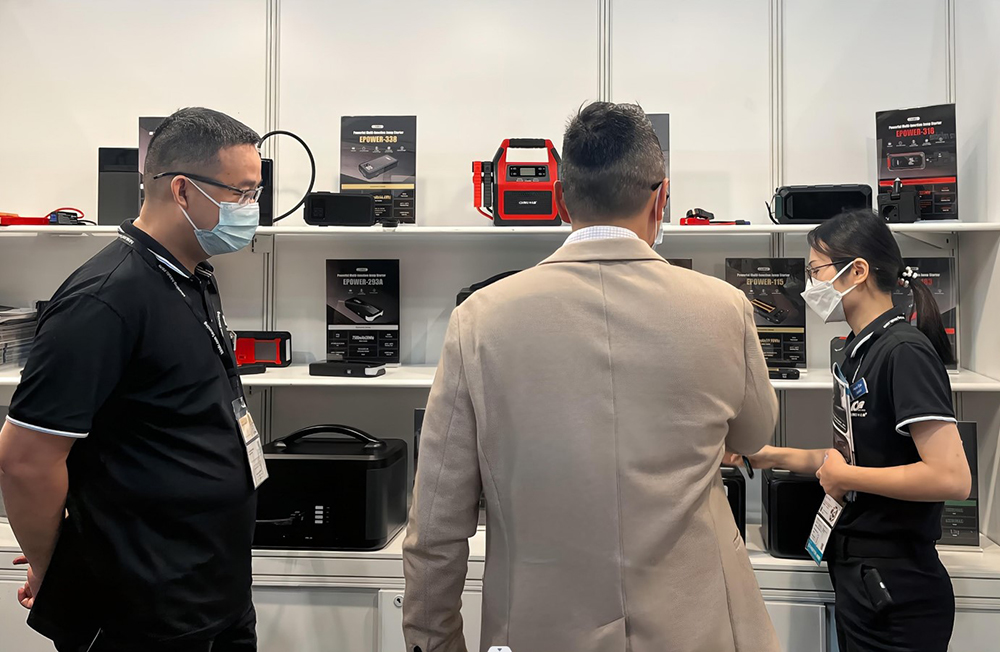 Exchange and communication at the exhibition
Carku, as the inventor of multi-functionalautomotive jump starter&Leading supplier of safe LFP portable power station,is committed to developing intelligent products that benefit people's livelihood around lithium power application technology.
Since its establishment, Carku has invested tens of millions of dollars in research and development every year, mastering the core technology of the industry, having obtained 437 global patents and accumulated sales of over 10 million units. Carku's products have won important design awards at home and abroad, such as American Muse Design Award, Germany iF International Design Award, China Red Design Award and Shenzhen Gift Award.
Now, follow me to find out what are the advantages of the new products that Carku carries in this exhibition.
Safe LFP portable power station
With the camping fever in China, many outdoor products represented by power station are loved by the majority of consumers. carku upholds the customer first principle, according to the needs of users to develop a variety of outdoor power products for short distance, long distance and other ways to go out, providing consumers with a variety of choices.
In addition, the product also has the following features to protect the consumer's outdoor camping and provide abundant power.
① Utral-safe: LIFEPO4 battery cell, CARKU DSLI patented battery management system, fire and explosion proof, long lifetime.
② Constant power: multiplication technology, super multiplied load.
③ Long battery life: Optional sub-battery, double power.
④ Instant start: quickly start 12V car, jump starting your car everywhere.
Automotive jump starter
As the inventor of multi-functional automotive jump starter
, We also brought the Carku jump starter to the exhibition. When a car owner is worried about the car battery losing power and stalling, but does not want to go through the trouble of calling a tow truck, a Carku jump starter can solve all the problems.
Not only can the car instant start, it also provides users with electronic equipment charging, air pump pumping and other functions, a multi-purpose machine, with the following advantages.
①DSLI IV core technology ,leading the industry:Faster, stronger and safer
②Adapt to the vehicles from small car to large truck,fit for all 12V and 24V vehicles.
③10 protections, fire-proof and explosive-proof, ultra-safe.
④Extremely low dissipation and Self-consuming,after 2 years of storage, the jump stater still working.
Carku is looking forward to working with you to create a win-win situation and a bright future together!